Universal Design Room (Accessible)
REGULAR FLOOR
Universal Design Room (Accessible)
9FREGULAR FLOOR
Universal Design Room (Accessible)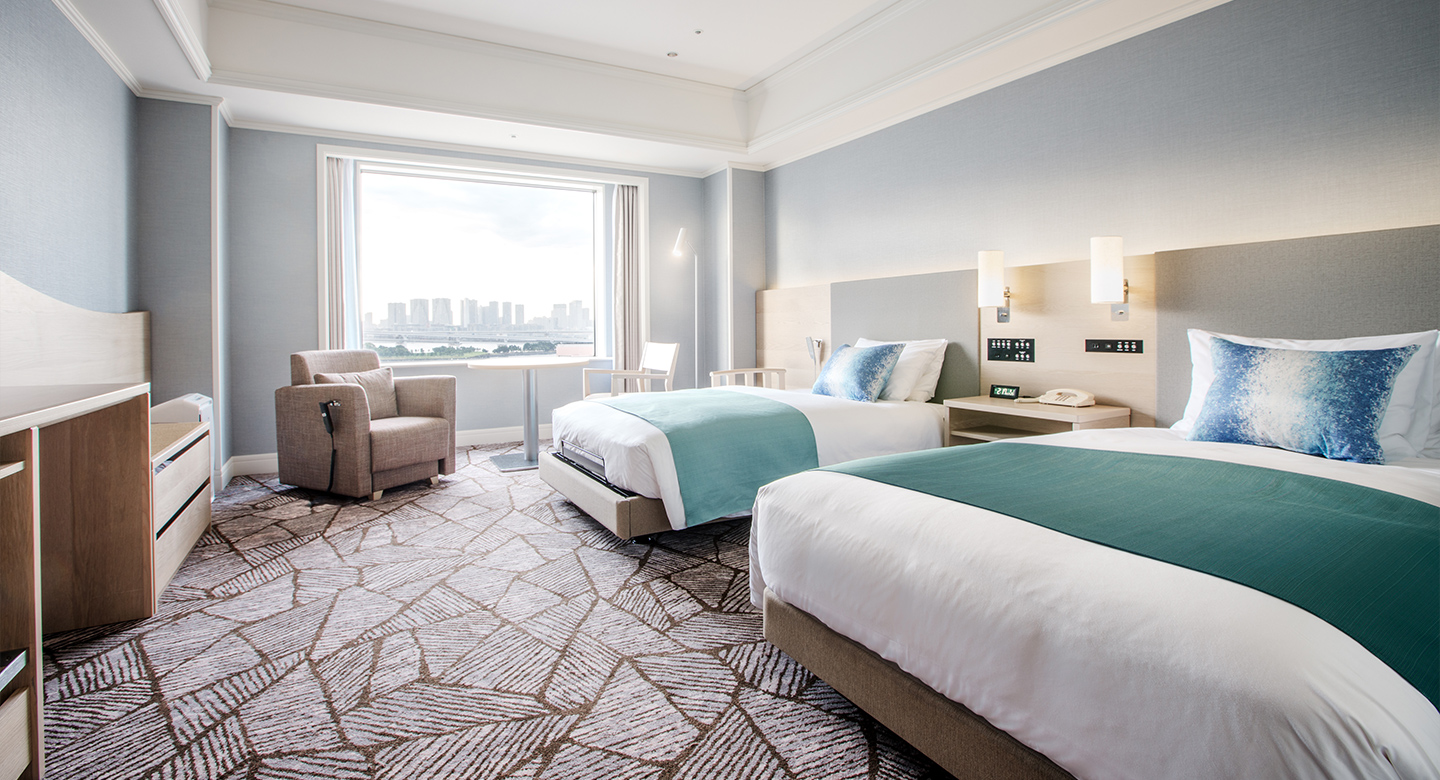 Have a relaxing time in accessible guest rooms
designed to provide a safe and comfortable stay for all.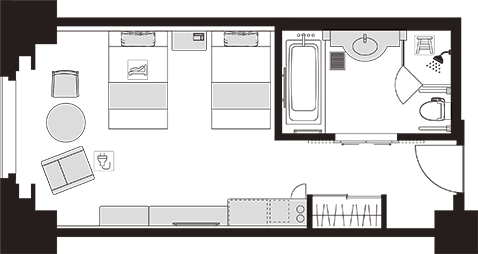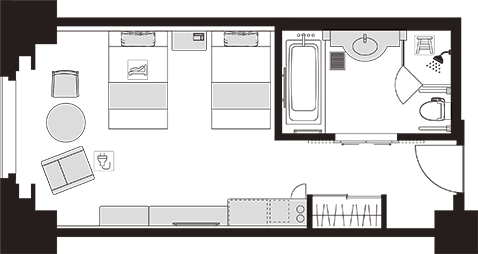 Special Features of Our Accessible Rooms
Special Features of Our Accessible Rooms
Wide door width of 85 cm

We have widened the doorway to 85 cm so that guests in wheelchairs can enter or leave the room easily. The door closes slowly when you release your hands from the door.

A video door phone is installed by the guest room entrance

The flash alert system linked to the door phone by the entrance is installed in the bedroom and the bathroom to notify guests with hearing impairment when someone visits.

The locations of guest room light switches have been changed

Guest room light switches are installed at the height of 1100 mm, and the height of closet rods can be adjusted.

Simmons motorized beds are installed

Guest rooms are equipped with a Simmons motorized bed with adjustable head and foot sections. The base can also be raised and lowered to make caring easier.

A power lift assist sofa is installed

A power lift assist sofa is installed for guests with weak lower backs and legs.

Bathrooms now have a sliding door

The door to the bathroom has been replaced with a sliding door to make it more accessible for guests in wheelchairs.

The sink in the bathroom has been changed

It is now easier to use for guests in wheelchairs as there is an open space under the sink.

Drawers have been changed to those with an opening at the top

There is an opening at the top of the drawers so that guests with weak grips can open them with ease.

Carpet design that makes it easier for guests with weak eyesight to find their way

Accessible guest rooms are located nearby the elevator hall so that guests in wheelchairs can reach them smoothly. The carpet around the doorway to guest rooms is designed in a way that makes it easier for guests with weak eyesight to find it. (9F)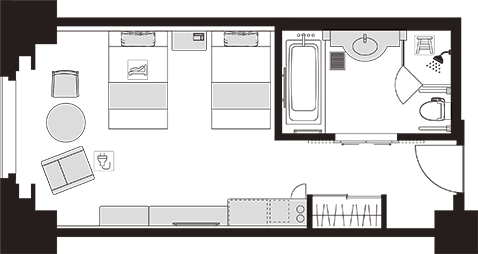 Universal Design Room (Accessible)
Size
42m²
Floor
9F

Bed (Width)
1,200mm×2,050mm
Motorized adjustable bed 1,200mm×1,950mm
* Images of guest rooms and floor plans are examples only.
Actual rooms may vary.
AMENITIES
AMENITIES
Nightwear

Linens with distinctive confort and texture. Our original Grand Nikko nightwear with separate top and bottom places emphasis on comfort.

Shampoo,Conditioner,
Body soap

LA MER is a series of cosmetic ingredient mixtures that are extracted from edible seaweed found in the transparent and clear seas of Okinawa.
We offer shampoos, conditioners, and body washes using this amino acid-base cleaning mixture that is gentle to sensitive skin.

Ladies Amenities

Cleansing oil, facial cleanser, face lotion and emulsion are available.
・Toothbrushes
・Razors
・Bath salt
・Body towels
・Hair brushes
・Turbans
・Cotton buds
・Shower caps
・Stationery
・Slippers
・Shoeshine cloth
・Mineral water ( 500 ml )
ROOM EQUIPMENT
ROOM EQUIPMENT
・Electric kettle
・Utensils ( Teacups and others )
・Bottle openers
・Refrigerators
・Hair dryers
・Face&hand soap
・Safe deposit box
・Air purifiers
・FREE Wi-Fi
・Newspapers
・Flat screen TVs
・Deodorizing sprays
・Shoehorn
・Hangers
・Clothes brushes
ROOM
TYPE