Exective Floor
STAY
EXECUTIVE FLOOR
Located on the top floors(25th, 26th, 27th and 28th floors),
features a private lounge exclusively for guests
and dedicated staff to support guests stay as a resort unique to Odaiba.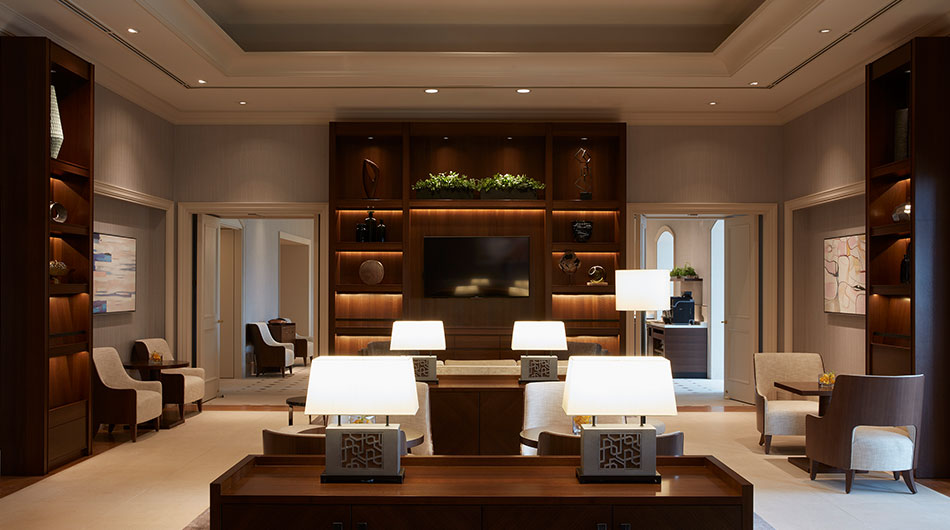 HOSPITALTY
Check in and out
at the private lounge2F
Customers staying in this hotel's Executive Floor and suite rooms may perform the check-in and check-out procedures at the exclusive lounge for the Executive Floor.
In addition, please feel free to contact us for information such as hotel restaurant reservations and tours in Tokyo and Odaiba.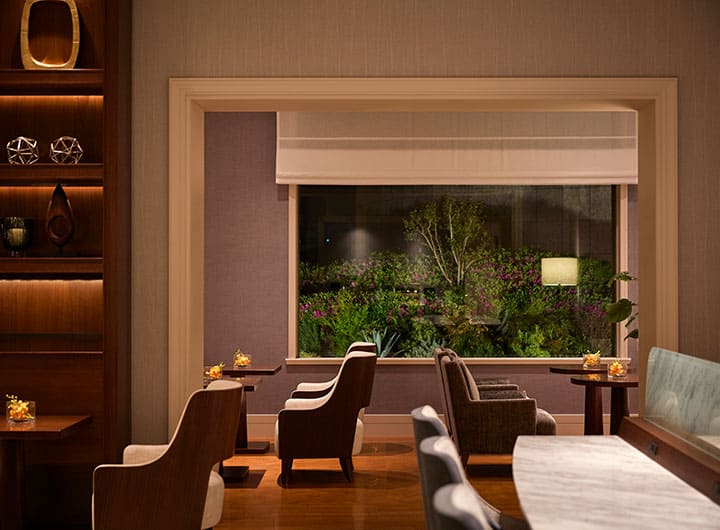 Check-out procedures at the Executive Lounge will be suspended for the meantime.
This service will be redirected to the 2nd floor Front counter.
Business Hours
10:00 ~ 21:00

*Check-in after hours (including 10:00-14:00) and check-out are available at the front counter on the 2nd floor.
* Only customers who are 20 years of age or over are permitted to use the lounge after 18:00.
Food & Beverage Service2F
Coffee, tea, sweets, hors d'oeuvres,
and a wide variety of beverages including spirits are
available along to the scenes from the morning to night.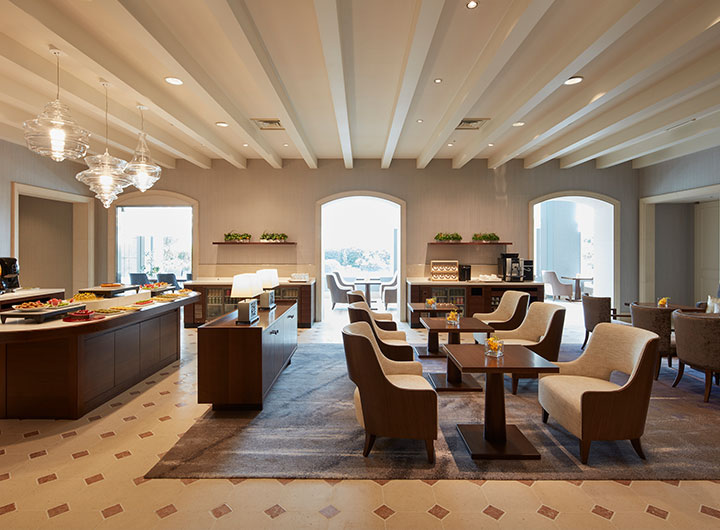 For the time being, we have changed some contents of the service.

Executive lounge(2F)-Business Hours- 10:00~21:00
*Alcohol will be served during cocktail time from 17:00 to 20:00.
〈Tea & Afternoontea Time〉
Business Hours
10:00 ~ 16:30
Dried food, coffee, tea, soft drinks, etc.


* Sweets are served from 15:00.
〈Cocktail Time〉
Business Hours
17:00 ~ 20:00
Snacks such as fried pasta sticks, dried food, hors d'oeuvres along with other food(light meal) and beverages such as sparkling wine,
shochu (Japanese distilled spirits), whiskey, Japanese sake, craft beer, cocktails, etc.


*Hors d'oeuvres(light meal) will be served from 17:00 to 19:00.
(Please note that we may ask you to limit your use to 60 minutes depending on how crowded it is.)
〈Nightcap〉
Business Hours
20:00 ~ 21:00
Cookies, snacks such as mixed nuts and beverages such as coffee, tea, herbal tea, various soft drinks, etc.
View Lounge on 27th27F
From its refreshing mornings to its dazzling night skyline,
Tokyo Odaiba's appearance changes throughout the day.
Enjoy the view of the cityscape provided by the outlooking View Lounge.
Spend your time unwinding while savoring a cup of coffee or black tea.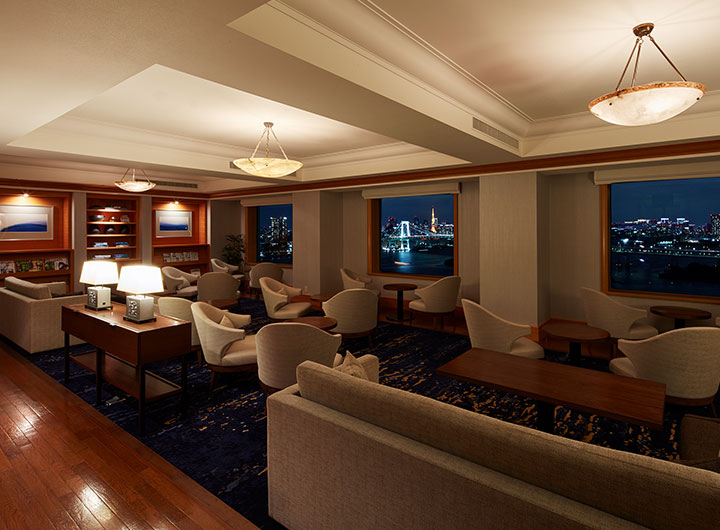 Business Hours
10:00 ~ 20:00
Floor/Seats
27F / 20 seats
Access Available to
・Guests staying on the Executive Floor or in Suite rooms.
・An access key card is provided upon check-in.
・No smoking is permitted within the View Lounge under any circumstances.
Please refrain from bringing in food or drinks from outside the lounge.
・Please be aware that the lounge may be unavailable during certain special events.
Fitness Club "Le Club"Atrium Building 3F
Take care of your heart and body in Tokyo Odaiba, city where the sea and the sky meet.
Free use of the Fitness Club including gym, sauna and indoor pool is offered.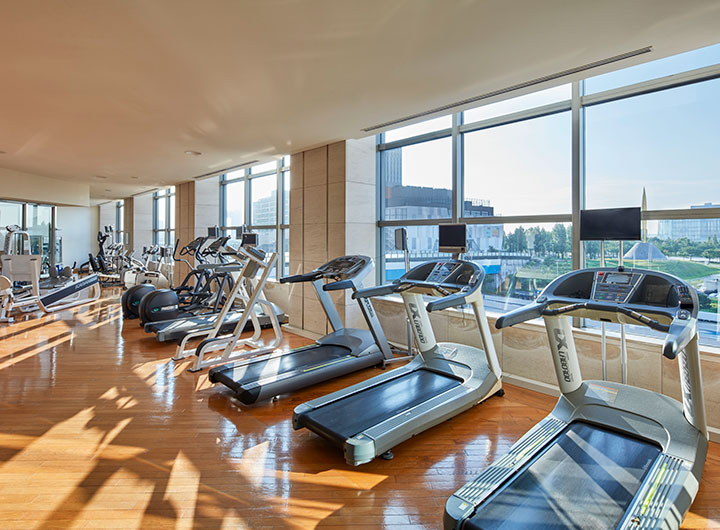 Business Hours
Mon - Sat 7:00 - 22:00 (Last Entry 21:15)
Sun,Hol 7:30 - 19:00 (Last Entry 18:15)
・Limited to only the age of 16 years or over for safety reasons.
・A fee is requiredfor goods rentals and special programs.
Meeting SpaceIn The Executive Lounge
A meeting space is available for up to 8 people.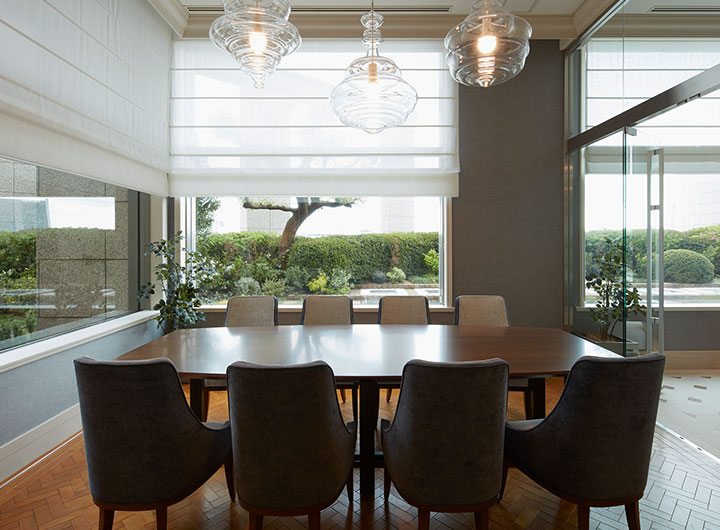 Business Hours
10:00 ~ 17:00
Rates
Free for 1st 1 hour
( after the 1st 1hour ¥5000 per hour )
Contact
+81-3-5500-4506
・Available by reservation. (up to 2 hours).
Complimentary Breakfast
Breakfast is essential at the beginning of the day. between Western-style buffet and Japanese food.
The Grill on 30th is opened for breakfast, until further notice.
Breakfast will be served in a set menu.
We appreciate your understanding on this matter.
Western Buffet

Enjoy fresh salad, fruits and bread as you like.Selection from eggs or French toast available for the main dish.

| | |
| --- | --- |
| Restaurant | The Grill on 30th |
| Floor | 30F |
| Business Hours | 7:00~10:00 |

Sushi Set Meal

The only restaurant that lets you enjoy a sushi breakfast on the top floor of a hotel. Enjoy your breakfast along with the sunrise over Odaiba.

Restaurant
Sushi Tamakagari Tempura Tamagoromo
Floor
30F
Business Hours
7:00~10:00
Information
For the time being, we are open on certain dates only.
For details on business hours, please inquire with the general information of the restaurant.

Room Service

In addition, Room Service(American or Continental Breakfast) is on choice.

| | |
| --- | --- |
| Business Hours | 7:00~11:00 |
Welcome Service

〈Free drinks in the refrigerator〉
We offer beer, red and white wine, soft drinks, and mineral water.
〈Welcome sweets〉
We have prepared sweets as a treat during your stay.

* Each one will only be given on the date of your arrival.

Cafe & Tea Service

We offer Nespresso, which attracts attention as a hotel guest room item. There are three popular types of coffee capsule, including decaffeinated coffee.
It is a collaboration product between Grand Nikko Tokyo Daiba and Lupicia, a global black tea and green tea specialty store. Green tea is deep-steamed Japanese green tea that is characterized by its mellow flavor and mild aroma.

Free parking

We offer free parking for one car per room during your stay.
ROOM
TYPE