About new coronavirus (COVID-19) infection prevention measures accompanying the use of the banquet hall
2020.11.12
[Meetings / parties]
[News]
About new coronavirus (COVID-19) infection prevention measures accompanying the use of the banquet hall
In response to the spread of the new coronavirus (COVID-19), the hotel is inviting you to use the banquet hall in a new style.
Efforts at the banquet hall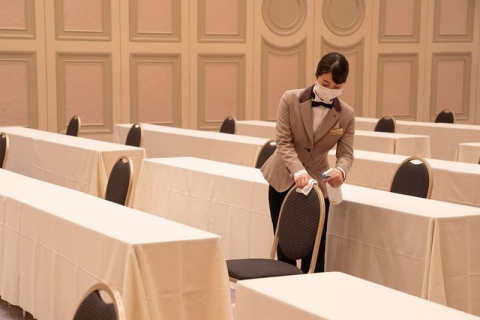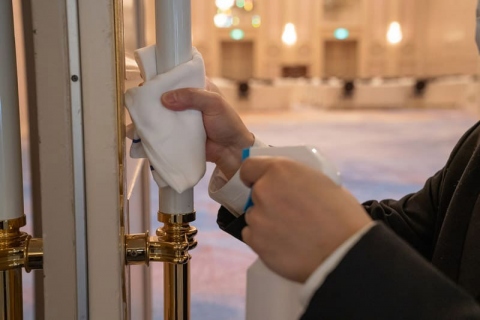 ◆ When using the escalator, adjust the number of people getting on and off, such as recommending the use of two rows on the left and right at intervals.

◆ Doorknobs, tables, chairs, and microphones are wiped and disinfected after each use.

◆ Prevention of infection of staff ・ Thorough temperature measurement, hand washing, gargle, and alcohol disinfection of fingers before starting work.
・ Masks are worn by all staff.
・ In order to refrain from contact as much as possible, we stopped exchanging business cards with the service staff in charge.

◆ Maximum ventilation with air conditioning equipment in all banquet halls.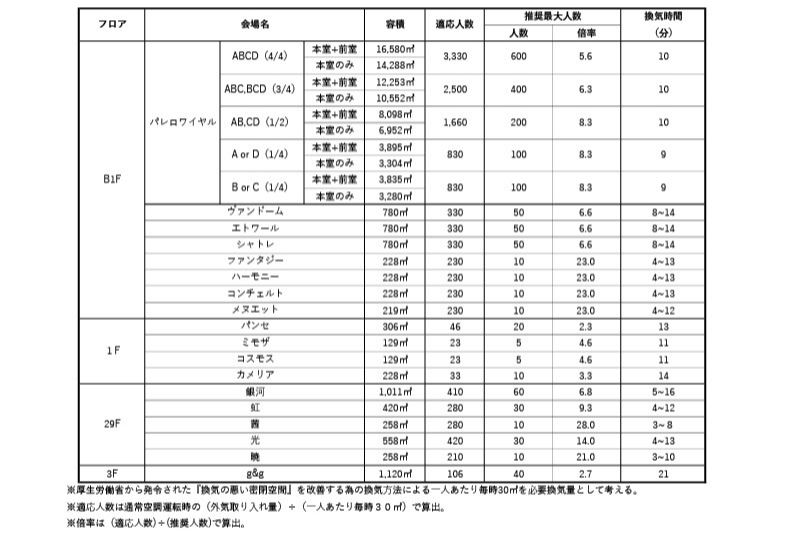 Ventilation of the banquet hall (PDF)
Social distance layout recommended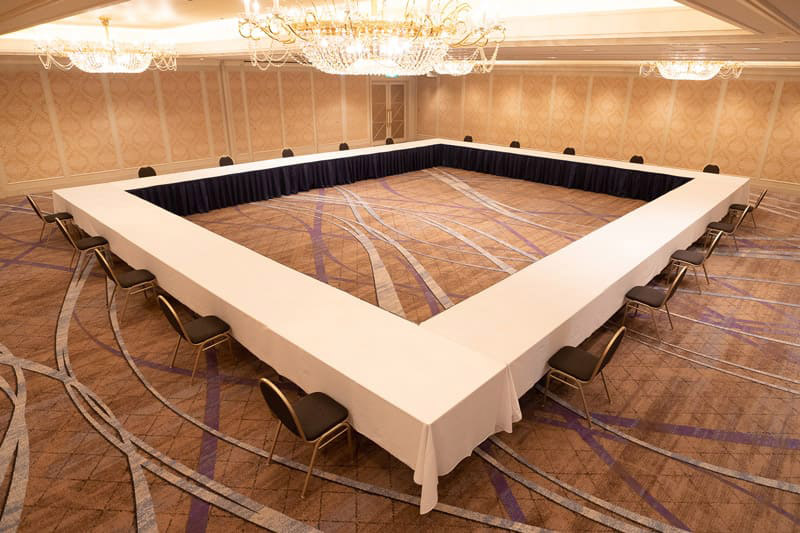 Reduction of seat allocation and expansion of seat spacing

・ The regular supper style is a round table with a diameter of 200 cm for 5 to 6 people.

・ School format is limited to 2 people per table.

・ The theater-style seat spacing is 1 m or more.
Buffet style initiatives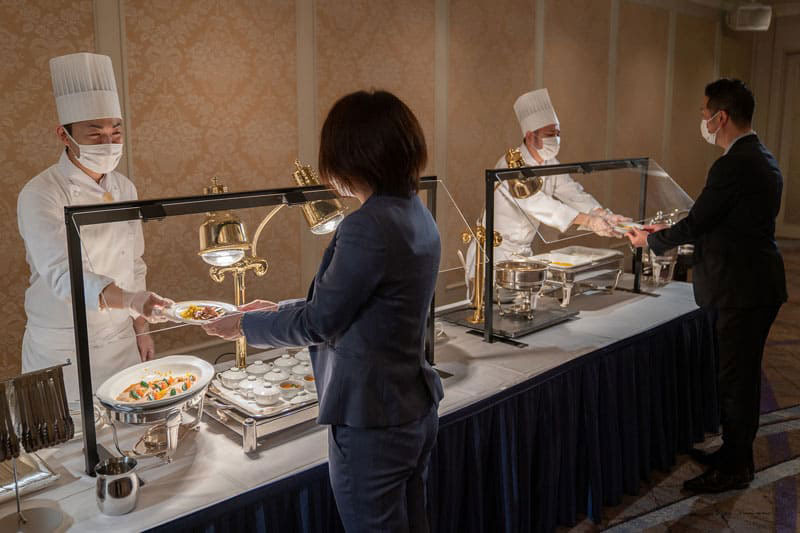 ・ Acrylic boards are installed on the buffet cooking table to prevent droplet infection.

・ For buffet dishes, we have introduced a new style that eliminates splashes, contact, and crowding, such as subdividing cold dishes and hot dishes by hotel staff.

・ Please wear a mask in each dish line for customers.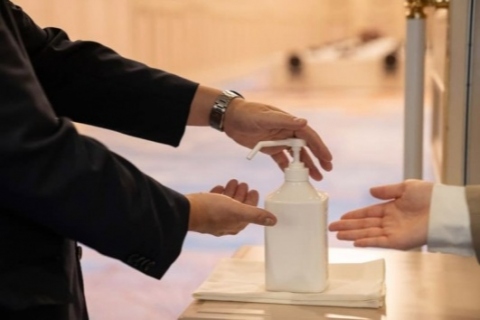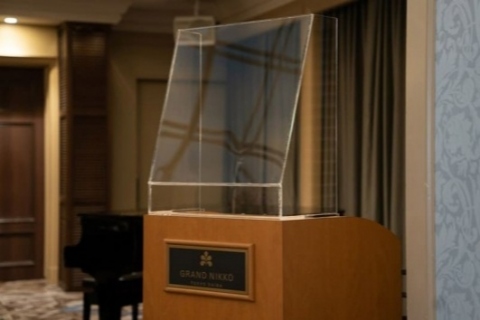 ● Non-contact electronic thermometer
We rent a hygienic thermometer for reception, which allows you to quickly measure the temperature without touching it directly. (Paid / Limited quantity)

● Splash prevention acrylic board
We rent it out so that it can be installed on the tabletop, reception desk, lecturer, moderator, etc. (Paid / Limited quantity)

● Thermal camera
We rent it out. (Paid / Limited quantity)

● Disinfectant
Installed at all venues.
Information for customers using the banquet hall
・ We ask all attendees to wear masks.

・ Please disinfect your fingers at the entrance and exit of each banquet hall.

・ Please refrain from using this service if you are not in good physical condition, such as poor physical condition, fever or cold symptoms.

・ Please note that we do not allow customers with a body temperature of 37.5 degrees or higher to enter.

・ Please use the restrooms and indoor / outdoor smoking areas of each facility at sufficient intervals.

・ Please refrain from using the cloakroom as much as possible, and we recommend that you manage it by yourself at the venue.
(We are proposing the installation of a luggage rack in the venue.)
| | |
| --- | --- |
| Reservation / inquiry of banquet hall | Tel +81-3-5500-4601 (directly from the sales department) Weekdays 10: 00-17: 00 |
Monthly Archive
2022(2)

2021(1)

2020(4)

2019(2)